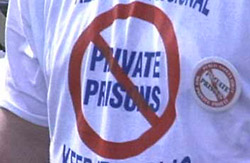 (photo source: Corrections: Private Prisons are Back)

Tuesday night, I had the opportunity to meet a senior staff attorney with the ACLU who gave a talk on the many pitfalls and disastrous results since inception of privately operated prisons. Recently it's become a hot topic, in more than a few states, as the recession causes governors and legislatures to look at ways to reduce budgets.

The majority of private prisons are operated by one of two corporations: Corrections Corporation of America (CCA) and GEO Group [5].

They were originally intended to save money. States contracted with them on the premise that they would operate annually 5% cheaper than state prisons [6]. This alone might have made a logical person suspicious of the motive of turning punishment into profit, especially when prisons need programs to offer rehabilitation and training courses for inmates soon to be released, when guards must be paid and offered retirement or other benefits like any other job, and both inmates and guards need to be kept safe. Cutting funding seems counter-productive. Regardless, any drastic reduction in costs didn't happen. In fact, according to a 2012 report, Arizona is losing money; $3.5 million more per year is spent on for-profit corporations over state-run prisons [4].

That's not to say that the corporations are not turning a profit. "When a state government enters into a contract with a private prison company, it legally binds the taxpayer to pay the company a certain dollar amount per inmate per day" [3]. Since 1987, the prison population soared, tripling in number to 1,596,127 [7]. In 2010, both CCA and Geo Group made more than $1 billion each, with CCA reporting revenues of $1.675 billion [3, 8]. Corporations exist solely to make a profit – for its shareholders. In this case, profits not seen by the taxpayers subsidizing that income. CCA and Geo Group also have a strong lobbying base. In the past decade, $45 million was spent on lobbying efforts by the private prison industry [2].

Private prisons are also more dangerous. The first privatized prison in the U.S. is located in Ohio, which is Lake Erie Correctional Institution (LaECI). After a surprise inspection in February 2013, the Correctional Institution Inspection Committee (CIIC) released a brief, which reported a 300% increase in inmate-on-staff violence (possibly due to ratio of staff to inmates after continued layoffs) and a 187.5% increase in inmate-on-inmate violence from 2010-2012 [1]. Additionally, turnover rate is considerably higher at private prisons at 53%, while with state-run prisons levels were much lower at 16% [10]. This means that existing staff is not senior or well trained at preventing riots, rapes, assaults or escapes. LaECI is now reported as being overcrowded at 130% capacity, with single-person cells holding up to 3 inmates each [2]. You can see how high capacity would generate more income for shareholders, but made at a loss to taxpayers' own bottom lines. "The interests of taxpayers and private prison shareholders are similarly opposed" [9]. Not least of all is the cost to communities who may have to compensate for having an incarcerated family member. One who potentially will not be rehabilitated and therefore have less success at parole, which in turn would generate more revenue if the offender is returned to prison.

This is another problem with private prisons: the lack of rehabilitation. The top five states with the highest percentage of privatized prison beds each has a higher three-year recidivism rate than Ohio [3]. Additionally, Ohio's two private prisons offer fewer rehabilitation and training than their public counterparts [3]. These kinds of programs help ex-offenders cope with their emotions, learn to make better decisions and simply function in society upon release. A 2005 study published in the Journal of Law and Economics found that "private prisons had 'no contractual incentive to provide rehabilitation opportunities or educational/vocational training that might benefit inmates after release, except insofar as these services act to decrease the current cost of confinement'" [11].

Finally, there is a problem with oversight. Governors can fire wardens at poorly managed state-run prisons, but not the private ones [12]. Private prisons are run by corporations whose accountability is only to its shareholders. In many states, private prisons are exempt from public records laws [12]. An Ohio state auditor tried to audit a correctional facility in 1987, going so far as to sue for noncompliance and was told, "'…it was not required to produce the requested records because it is not a public office as defined in' Ohio's Public Records Act" [12]. The Ohio Supreme Court ruled for the institution.

Privatizing prisons is clearly not the way to keep our communities safe, and is proven not to lower costs. Keeping guards and inmates safe, lowering recidivism and the overall cost to communities should be our top priority. While it would seem contrary to popular demand, this would be accomplished by allowing more funding to go to public prisons and ending private prisons' autonomy if they are to remain in existence.

References:

[1] Lopez, G. 2013. Inspection Finds Dangerous Conditions at Private Prison, Cincinnati CityBeat. Retrieved from http://www.citybeat.com/cincinnati/article-27180-inspection_finds_dangerous_conditions_at_private_prison.html

[2] Shen, A. 2013. "Over 18 Months, Nation's First Privately Owned State Prison Has Declined Rapidly." Retrieved April 10, 2013, from http://thinkprogress.org/justice/2013/04/10/1843291/over-18-months-nations-first-privately-owned-state-prison-has-declined-rapidly/
[3] ACLU Report. 2011. Prisons: A look at prison privatization, p. 2.
[4] Shen, A. 2012. Private Prisons Cost Arizona $3.5 Million More Per Year than State-Run Prisons. Retrieved from http://thinkprogress.org/justice/2012/08/06/641971/private-prisons-cost-arizona-35-million-more-per-year-than-state-run-prisons/
[5] Gilroy, L. and Kenny, H. 2010. The Reason Institute, Annual Privatization Report 2010: Corrections, pp. 1, 10. Retrieved from http://reason.org/files/corrections_annual_privatization_report_2010.pdf
[6] Ibid. p. 3
[7] Ibid. p. 9
[8] NPR Staff. 2011. Who Benefits When a Private Prison Comes to Town? Retrieved from http://www.npr.org/2011/11/05/142058047/who-benefits-when-a-private-prison-comes-to-town
[9] Ibid. p. 11
[10] Ibid. p. 13
[11] Ibid. p. 16
[12] Ibid. p. 17